Chris Stanchak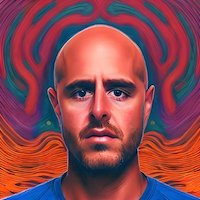 👋 Hi!!
Thanks for stopping by. My name is Chris Stanchak.
I'm an entrepreneur living with my wife Jenny and our 3 kids (+ a dog) in Austin TX. I'm originally from South Jersey (right outside Philadelphia), but spent 10 years prior to Austin living in San Diego (where Jenny is from). As much as I love Austin, I sure do miss surfing. :)
I've always had a curious mind, so entrepreneurship was made for me. Some people dream of starting something, but can't seem to figure out what they want to do. I've never had that problem. In fact, the hardest thing for me is focusing on just one thing and not getting bored.
Speaking of which, you can see some of the things I've worked on below. Feel free to send me an email anytime you want to say hi.
---
Current Work:
Loveseat: CoFounder & CEO
Loveseat was started by me and my wife Jenny (she is the CTO). Loveseat is a returned goods marketplace. If you ever purchased anything for your home from Wayfair, Overstock, etc., chances are you returned something. Where do those returns go? A long time ago, they went into the trash. We saw this as an opportunity which is why we built Loveseat. We make it fun and easy for people to purchase returned goods for their home from major retailers at a fraction of the price. So, you can say we're saving people a ton of money and making the world a better place in the process. The founding story is that Jenny and I wanted to build a marketplace together and through the process of elimination, we ended up with furniture. The name Loveseat came up in an early pitch meeting w/ Josh Kopelman of First Round Capital. We initially bootstrapped Loveseat, but have since raised capital from Bessemer Venture Partners & notable angel investors such as Gabriel Weinberg, Kal Vepuri & Gokul Rajaram.
Past Work:
TicketLeap is an event ticketing platform, like TicketMaster, for smaller events. I started it out of college using a $50k loan, scaled it to profitability w/ about $100k in revenues and eventually raised $8.5m in VC from a collection of Philly-based venture funds & angel investors. The company was grossing over $100m a year in ticket sales annually when we sold the business to a PE group. TicketLeap was foundational to the existance of Venmo and many of the founding team members came out of the company. Along the way, I had some amazing experiences including pitching and raising angel $$$ from John Legend himself as well as getting Daymond John (Sharktank) on as an advisor.
Venmo: Founding Advisor
Venmo is the most well known thing I ever was involved in. Iqram (who was my first hire and CTO of TicketLeap) one day told me that he wanted to start a peer-to-peer mobile payments company with his friend Kortina. In all honesty, I thought it was a dumb idea at first. You need to remember, this was prior to the days of apps on the iPhone. Venmo started as SMS. I was super bummed he was leaving TicketLeap, but offered to help him anyway I could. He took me up on it and brought me on as an advisor to the company. It's pretty cool having witnessed something of that scale literally from the start. I genuinenly wanted to help Iqram and I think I did, but in the end it helped me too.
Startup San Diego is a non-profit organization focused on growing the San Diego startup ecosystem. As an EIR, I took on numerous responsibilities with the programming of events. My favorite contribution was the creation of the Startup Incubator.
DreamIt Ventures is a Philadelphia based startup accelerator (similar format to Y Combinator). I was invited to be an advisor early in the launch of DreamIt and helped numerous companies. The most notable is LevelUp. When I began working with LevelUp, they were known as SCVNGR - an early stage mixed reality scavenger hunt. They pivoted to LevelUp which was a mobile payments platform for merchants (similar to Square). LevelUp was eventually acquired by GrubHub for $390m.
---
© Chris Stanchak.RSS